Jungle Books Slots Review: Is there Joy in this Jungle?
Jungle Books slots by Yggdrasil feature new mechanics never before seen in a slot game - check them out and get your free spins.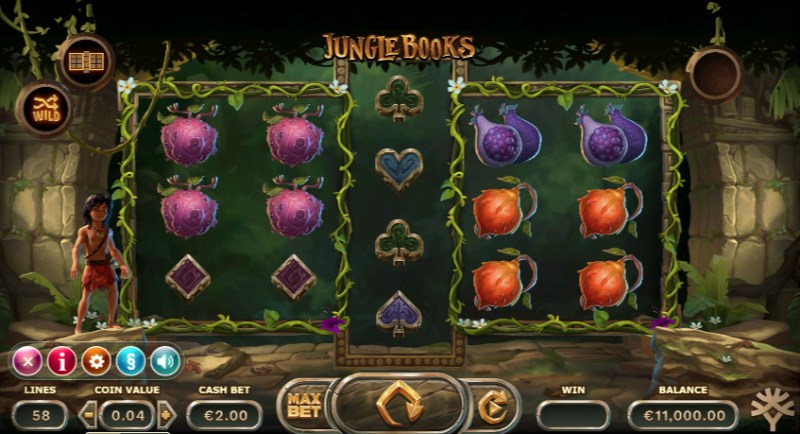 Rumble in the jungle
Here for a Jungle Books slots review? Then you came to the right side of the vast internet jungle. Below you will find our review on this Yggdrasil slot. We also have the latest and greatest places to try this game.
About Jungle Books Slot
Jungle Book is probably best known as the 1967 smash hit Disney movie - but in actual fact it was a series of short series by Rudyard Kipling. In the original stories, we get to meet Mowgli, a boy who was abandoned as a child and is raised by wolves.
| Jungle Books Slots Game Information | |
| --- | --- |
| Developer | Yggdrasil Gaming |
| Reels | 5 |
| Paylines | 58 |
| Features | Realms, Random Features |
| Theme | Nature |
| RTP | 96.10% |
| Launch Date | 2017 |
With the assistance of Baloo the bear and Bagheera the panther, Mowgli must put a stop to the terror that is Shere Khan, a giant tiger with a taste for man.
With such a classic story behind it - we're pretty sure Yggdrasil can nail a successful slot adaptation. Let's find out in our Jungle Books slot review.
Jungle Book features crystal clear 3D character models and fluid animation; a standard we have come to expect from Yggdrasil these days. Mowgli and the crew have real character in their design and it's clear many hours were spent handcrafting them to perfection. The symbols range from colourful fruits to seeds.
The primary feature of the Jungle Books slot is the realms and hosts mechanic. Each of the characters in the slot has their own set of reels (or their own realm) and each character has two features they can apply to the reels. The characters whose realm you are in will always stay on the left hand side. Here's the characters and their various realm features:
Shere Kahn Features: Sticky respins and stacked wilds
Bagheera Features: Superhigh pays and win multipliers
Kaa Features: 3x wild multiplier and win both ways
Mowgli Feature: spreading wilds and synced reels
Baloo Feature: Stacked symbols and honeycomb bonus
At any random time while you are spinning, the character can leave their realm and move to a new area, appearing on the right hand side of the reels. For a short period of time, the realms character will apply their features and the host will also randomly apply a feature. That means you can have 3 random features active at any given time, giving a huge boost to your winning potential.
Sadly, there is no Jungle Books slot free spins round - but the innovative host and realm mechanic keep the game fresh and exciting.
Our Verdict
Yggdrasil have captured the magic of a timeless story and infused their own quirkiness and flair. The result: a fabulous video slot with beautiful graphics and wild bonus features.
Previews & Tips Slots Articles